The pain scale is a system for determining your level of pain and whether or not it is being well controlled. There are different types of pain scales but the most commonly used one has a numerical rating scale.
Here's how it works. The nurse will ask you: "On a scale of 1 to 10, with 10 being the worst pain and 1 being the least, how would you rate your pain right now?" There is no right or wrong answer so say whatever you feel. However, this is not the time to try to get more attention by exaggerating your pain level because it could land you in the operating room! Minimizing it might get you there, too, so be honest and straightforward. Understand, too, that pain may not be treated until a working diagnosis of your complaint is made by the emergency medicine doctor.
If the nurse gives you pain medication for a pain level you rated as 7, she's going to check you later on to see how well the pain medication worked by asking you to rate your pain again. If the level is the same or hasn't changed much, this indicates to your nurse that additional pain medication may be needed. If you rate your pain as 1 and say you feel much better, she knows the pain medication worked. But that's not the end of it.
You'll be asked regularly to report your pain level number. Again, this is done for your comfort and safety and to decide the best care so please cooperate. The nurse will be documenting the times and your responses. This helps to determine if your condition is changing and how much pain medication you may need and how often. It also helps to identify when a type of pain medication isn't working and when another one should be ordered.
Children, elderly or anyone who may be confused may be asked to express their pain level using visual aids. This type of scale provides a visual description of pain for those who are unable to verbally communicate their discomfort. By acknowledging or pointing to the image that best matches how they feel, the patient provides the nurse with a good sense of how much pain they're experiencing.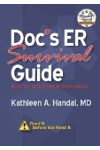 More About this Book
Doc's ER Survival Guide (DocHandal's Guides)
Few people get through life without at least one trip to the emergency room (ER), either as a patient or support person for a family member or friend. Doc's ER Survival Guide is designed to help...
A pain rating scale is a tool to quantify the patient's subjective experience of pain. Pain is a subjective experience and the most reliable measure comes from the person's self report of pain. In alert patients, the patient may be asked to locate their pain on a scale of 0 to 10 with 0 being no pain at all and 10 the worst pain they have ever felt. For children a pain scale with a series of faces going from a happy face (no pain) to a crying face (worst pain) is used. Pain scales are most useful for assessing trends in a patient's pain over time and in relationship to events such as the administration of pain medication or exercise.
Continue Learning about Pain