Your body doesn't just form allies or fight enemies based on how many calories a particular food has, or how greasy it is, or whether its mascot is a red-haired clown. When interrogating nutrients as they pass through your digestive system, your body classifies them by what kind of inflammatory effect they have: the enemies contribute to inflammation, and the allies quiet it.

Here, I'm not just talking about the inflammation that happens when your belly balloons to the size of a convention center, or inflammation that happens to your joints if you have arthritis. I'm talking about the chemical reaction of inflammation that happens within your bloodstream and is an underlying cause of weight gain. This process is like the rusting of our bodies. Just like metal rusts when exposed to harsh elements, inflammation is caused when oxygen free-radicals (no political affiliation) attack innocent bystanders in our bodies.

So what's inflammation have to do with waist size? Lots. Inflammation happens on many different levels and through several different mechanisms, many of them having to do with food. You can get inflammation through allergies to food, but you get inflammation in the rest of your body, too—through the way your liver responds to saturated and trans fats, and through the way your body and belly fat responds to such toxins as cigarettes and stress.

In turn, these inflammatory responses can cause things like hypertension, high cholesterol, and insulin resistance—and those inflammatory responses influence the total-body, mother-of-all inflammation in your arteries, which leads to heart disease and cancer.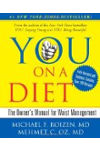 Continue Learning about Pain Conditions