The sodium-potassium pump is integral in maintaining the acid-base balance as well as in healthy kidney function. Energy is derived from pumping sodium outside the cell, where it becomes concentrated, wanting to push its way back in. This energy is used to remove acid from the body.
The sodium-potassium pump also functions to maintain the electrical charge within the cell. This is particularly important to muscle and nerve cells. During nerve transmission and muscle contraction, potassium exits the cell and sodium enters, resulting in a change in electrical charge that causes a nerve impulse or muscle contraction. Therefore, it is not surprising that a potassium deficiency affects muscles and nerves first.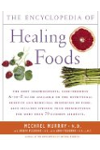 More About this Book
Encyclopedia of Healing Foods
From the bestselling authors of The Encyclopedia of Natural Medicine, the most comprehensive and practical guide available to the nutritional benefits and medicinal properties of virtually everything...
Continue Learning about Other Health Topics