What does an orthodontic chin cup treat?
An orthodontic chin cup is used to treat an under bite in children. An under bite is a condition in which the lower teeth are positioned in front of the upper teeth, similar to a bulldog's bite. Dentists call this a Class III growth pattern. When the under bite is due to a faster-than-normal-growing lower jaw a chin cup or chin sling may be recommended.
Continue Learning about Orthodontics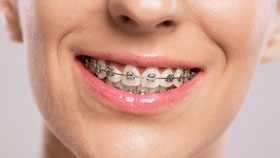 Orthodontics is a specialized branch of dentistry that focuses on the alignment of your teeth, which is generally done using braces and retainers. No matter your age, it's never too late to improve your dental health and improve y...
our smile.
More