Having braces while you are pregnant will be no problem at all. There are two things that you need to be careful of however, swollen gums and x-rays. Pregnancy changes the hormonal balance of your body while you're expecting and that change can cause "pregnancy gingivitis" or swollen gums. This is really just an exagerated response to plaque that is ever present in your mouth. The fix is just improved oral hygiene. The x-ray issue is simple... notify your orthodontist that you are pregnant and do not allow him or his staff to take any x-rays of your mouth until after you've delivered.
Because women who are pregnant may experience sensitive teeth and gums, braces may add to this discomfort. Pregnant women experience hormonal changes and an increased volume of circulating blood that can make gums swollen and irritable. But braces may be worn as long as you keep your teeth and gums free and clear of infection. Talking to your dentist or orthodontist can help you decide.
Continue Learning about Orthodontics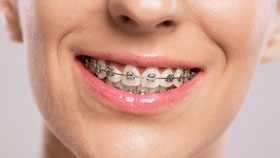 Orthodontics is a specialized branch of dentistry that focuses on the alignment of your teeth, which is generally done using braces and retainers. No matter your age, it's never too late to improve your dental health and improve y...
our smile.
More