Metal braces are very common among children. According to 2008 statistics from the American Association of Orthodontists, more than 78% of the 4.8 million people wearing braces was under the age of 18. Most people get braces between the ages of 9 and 14, so metal braces remain very common among children.
Continue Learning about Orthodontics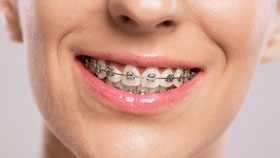 Orthodontics is a specialized branch of dentistry that focuses on the alignment of your teeth, which is generally done using braces and retainers. No matter your age, it's never too late to improve your dental health and improve y...
our smile.
More