Thought to be one of the oldest foods, sesame seeds have been grown throughout the world since prehistoric times. The Assyrians claim to hold the earliest records for writing, with ancient stone tablets as evidence. Apparently, on one of the tablets there exists a legend about the Assyrian gods, who drank sesame wine one night, then created the earth the next day.

Native to the Middle East, the sesame seed was thought to have originated in India and was mentioned in many early Hindu traditions. According to these traditions, the sesame seed represents immortality. During the Babylonian era (2100-689 B.C.E), the Babylonians used sesame oil to make exotic perfumes and medicine. Records also indicate that the Egyptians prescribed the sesame as medicine around 1500 B.C.E. and used the oil as ceremonial purification.

The Europeans encountered the sesame seeds when they were imported from India during the first century C.E. In the seventeenth century, the sesame seed was brought to the United States from Africa. Today, the main producers are China, India, and Mexico, where labor is abundant and inexpensive.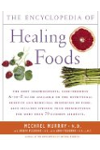 More About this Book
Encyclopedia of Healing Foods
From the bestselling authors of The Encyclopedia of Natural Medicine, the most comprehensive and practical guide available to the nutritional benefits and medicinal properties of virtually everything...
Continue Learning about Nutrition