Carnitine is a nutrient that the body produces to get energy out of fat. Both the kidney and the liver produce this nutrient. Some people, as a result of certain medications and medical conditions, are not able to produce enough carnitine. Extra carnitine can be found in red meat and dairy products. Otherwise, you can take carnitine supplements. There are several different kinds of carnitine supplements. Acetyl-L-carnitine is used in the treatment of Alzheimer's disease and other age-related brain concerns, although the effectiveness of the treatment is still being studied. This and other forms of carnitine are being studied for their purported use for erectile problems or fertility problems in men, as well as heart issues.

Carnitine is a vitamin-like compound that stimulates the breakdown of long-chain fatty acids with the help of mitochondria (tiny energy-producing organelles in our cells). Carnitine is essential for the transportation of fatty acids into the mitochondria.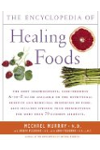 More About this Book
Encyclopedia of Healing Foods
From the bestselling authors of The Encyclopedia of Natural Medicine, the most comprehensive and practical guide available to the nutritional benefits and medicinal properties of virtually everything...
Continue Learning about Nutrition