Here's a list of foods rich in carotenoids:
carrots
plums
apricots
mangoes
cantaloupes
sweet potatoes
kale
spinach
cilantro (coriander)
collard greens
fresh thyme
turnip greens
winter squash
Carotenoids -- over six hundred different types -- are vitamin-like pigments found in many fruits and vegetables. For a long time, scientists did not know whether carotenoids had any nutritional benefit, but now it is increasingly clear that many of them have antioxidant and antiinflammatory properties.

You can spot carotenoids by the red, orange, green, and yellow color they impart to foods such as tomatoes, carrots, and apricots -- basically, any fruit or vegetable with these hues. Also, carotenoids are plentiful in dark leafy green vegetables: spinach, broccoli, and kale. Lycopene the red stuff in tomatoes is also a carotenoid that helps prevent prostate and breast cancer, and probably arterial aging as well. Carotenoids are one of the reasons eating a diet rich in fruits and vegetables can help keep you young.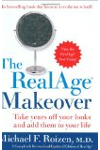 Continue Learning about Nutrition