Watermelons are native to the Kalahari Desert of southern Africa. The first recorded watermelon crop was found in Egypt, as it was depicted in hieroglyphics on tomb walls dating back as far as 3000 Being held in such high regard, watermelons were left as food to nourish the dead in the afterlife. From Egypt, watermelons spread throughout countries along the Mediterranean Sea by way of merchants. They were documented in China in the tenth century, and in the thirteenth century they were introduced to the rest of Europe by the Moors. Ultimately, the watermelon crossed the Atlantic Ocean and made its way to North America with the African slaves. It wasn't until 1615, however, that the word "watermelon" first appeared in the English dictionary. Presently, the Russian Federation grows much of the commercial supply of watermelon. People there even make a very popular wine of watermelons. The other world watermelon- producing leaders are China, Turkey, Iran, and the United States.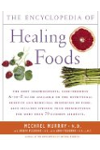 More About this Book
Encyclopedia of Healing Foods
From the bestselling authors of The Encyclopedia of Natural Medicine, the most comprehensive and practical guide available to the nutritional benefits and medicinal properties of virtually everything...
Continue Learning about Nutrition