To fuel your energy system, you need various nutrients. The B vitamins make up the backbone of energy production and transport. In addition, magnesium is a key player in hundreds of critical reactions in the body and is markedly suboptimal in most Western diets. Many other nutrients, including malic acid (which comes from apples), folate, and several amino acids are also critical for your energy systems to work well.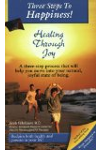 More About this Book
Three Steps to Happiness! Healing Through Joy
Happiness is our natural state of being. It is who we are. This happiness is obvious when you look at little children before they take on society's beliefs. Their natural state is to feel all of...
Continue Learning about Nutrition