After years of eating a poor diet, detoxifying your body can be both physically and psychologically difficult. The latter is involved because people often think that, since eating makes them feel better, the symptoms of detoxification are actually hunger. This leads to one continuous eating binge all day. It is no wonder that 80% of Americans are overweight. Every few hours they are compelled to put something in their mouths. They may feel better temporarily from that chocolate-chip cookie or pretzel, but they never really get rid of the uncomfortable symptoms. The symptoms come back again and again.

I call these detoxification (withdrawal) symptoms toxic hunger. It will recur whenever digestion ceases, not when the individual is truly hungry and has a biological need for calories. Toxic hunger keeps coming back to haunt you every time your digestive apparatus is no longer busy digesting. Because you feel the desire to eat so frequently, you will become overweight, and, in the process, your opportunity for a long life and disease-free future is lost.

Food addiction affects almost all Americans. It takes superior nutrition to lose the symptoms of toxic hunger. Toxic hunger makes it almost impossible to reduce portion sizes, cut back on calories, count points or follow other typical dieting strategies. You can't easily stop overeating when you are a food addict. A person can't be expected to eat less food when they feel so bad when they do. Unless people are informed, they mistake the withdrawal symptoms they feel for hunger, or claim they have hypoglycemia. They are simply your addictions and if you use this knowledge to help yourself through the detoxification process, you will be able to more easily, efficiently and pleasurably address your nutrient and caloric requirements.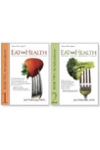 Continue Learning about Natural Wellness Techniques & Treatments