A very conservative online site to consult is Quackwatch at www.quackwatch.org. Dr. Stephen Barrett recently published a research project on "the shady side of embryonic stem-cell therapy" in which he reviewed five prominent clinics around the world offering stem-cell therapy, although not the one we addressed in Costa Rica. He concluded, "Although stem cell therapy has a few practical applications and considerable promise, there is no reason to believe [they] are providing it as a legitimate service. Their theories and methods are simplistic; their treatments may have adverse effects; they offer no credible outcome data; and their promisies go far beyond what is now possible." What's more, he found at least one clinic refused to detail methods for screening against AIDS or hepatitis.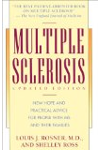 More About this Book
Multiple Sclerosis
Too often, multiple sclerosis is thought of only as "the crippler of young adults." But in fact, 75 percent of all people with MS will never need a wheelchair. In Multiple Sclerosis, Dr. Louis J....
Continue Learning about Multiple Sclerosis Research & Innovations