Having multiple sclerosis (MS) isn't a good reason to bail out of a relationship. It's simply something to work around. Think of MS like a mother-in-law. She's there, but you're not going to let her interfere in your marriage. Your financial picture may change, your roles may change, but that could have happened under many other circumstances, too. Your marriage will survive a lot of self-imposed limitations. But it won't survive without romance and shared experiences. Right now, be flexible, and reignite the romance in your marriage. Your mate may be depressed or frustrated by MS. Or he or she may be so fearful that your marriage won't survive that he or she is acting withdrawn or self-protective. Don't let these fears become self-fulfilling prophecies. Plan a romantic evening. Take the television set out of the bedroom. Try out a new body massage cream. Throw out your old ratty bathrobes and bring home sexy new ones for both of you. Or check into a motel for the night. Just have fun together. And remind your partner that you can lose the car, you can lose the house, you can lose just about anything, but you can't lose your sense of humor.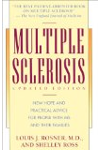 More About this Book
Multiple Sclerosis
Too often, multiple sclerosis is thought of only as "the crippler of young adults." But in fact, 75 percent of all people with MS will never need a wheelchair. In Multiple Sclerosis, Dr. Louis J....
Continue Learning about Multiple Sclerosis (MS)