Certain racial groups actually get no multiple sclerosis (MS) at all. They are the Eskimos, the Gypsies, the Yakuts in Siberia, and the Bantu in Africa. Among other black groups in Africa, MS is rare. In America blacks have about half the incidence of MS as does the white population. In England blacks also have a much lower incidence than whites. In London a prevalence study was done on black immigrants from the West Indies. More than one hundred cases were predicted for this population, but only eleven cases were ever observed. In the United States black veterans were found to have a 0.4 percent relative risk compared to that of white veterans. MS is more common, however, among American blacks than it is among African and Caribbean blacks - a factor possibly arising from environmental factors or reflecting interracial ancestry.
Many Asian groups in the United States, such as the Japanese and Chinese, have a very low incidence of MS - calculated as low as one-tenth that of many neighboring white populations. The Japanese are probably the most studied Asian population in regard to MS. While the disease is very rare in Japan, it is equally rare in Japanese who immigrate into other countries. In Los Angeles, where the risk of MS is moderate, and Seattle, where it is high, MS remains very rare among the Japanese populations, even among those locally born. These findings lend credence to the theory that some people can have a genetic insusceptibility to MS.
Although the data are not abundant, it also appears that MS is less common among North American Indians, some Indian groups in South America, and among people born in India, Pakistan, Sri Lanka, and Malta.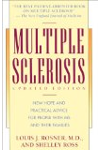 More About this Book
Multiple Sclerosis
Too often, multiple sclerosis is thought of only as "the crippler of young adults." But in fact, 75 percent of all people with MS will never need a wheelchair. In Multiple Sclerosis, Dr. Louis J....
Continue Learning about Multiple Sclerosis Causes & Risk Factors