Create a mental picture of anything you want to eliminate - say your flabby forearms. Visualize it in a form that makes sense to you.
Picture any steps you take as working. For example, if you're doing exercises or using a piece of workout equipment, picture them working. Really see the weight felling off.
Imagine yourself healthy and beautiful. What would a person who looks like you want to look be doing? Picture yourself doing these things.
Keep in mind that the condition you want to eliminate is weak and can be easily changed.
Tell yourself that visualization and your mind are much more powerful.
And you don't have to depend only on your imagination. Create an actual picture of the new you. All you need are some photos of yourself, some photos of the body you want, a pair of scissors, and the willingness to be a little silly After all, this weight-change business doesn't have to be so grim.
Just remember that visualizations work. Remember, your body is just a representation of your thoughts about yourself. Your physical self changes every day - really every minute - and by changing how you see your body you can change your life. Okay, so get out your scissors. Don't think, "This is ridiculous." Starving yourself for two days and then the next day polishing off all the contents of your refrigerator is what's ridiculous!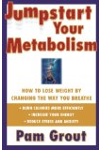 Continue Learning about Mind-Body Therapies