Estrogen and other hormones increase and then begin to cycle at puberty, resulting in a surge in headache activity for many girls. The cycling of hormones and other body chemicals with monthly menstrual periods often causes a marked increase in headache frequency and severity with menstrual flow and, to a lesser extent, mid-cycle with ovulation. A variety of factors contribute to a reduced headache threshold with menstruation:
Falling hormone levels
Low magnesium
Increases in substances called prostaglandins that make pain
receptors more sensitive
Changes in muscle tension
Increased susceptibility to headache triggers
If you or your daughter experiences an increase in headache or clustering of your headaches around your menstrual periods, you or she might benefit from tailoring your treatment to include therapies specifically designed to target menstrual migraine.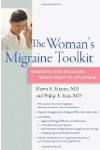 Continue Learning about Migraine Headache Causes