Just because one doctor prescribes a treatment doesn't mean it's your only option. In this Treadmill Talk, Sharecare expert Dr. Michael Roizen, chief wellness officer for Cleveland Clinic, explains why second opinions are important.
Not all diagnoses require a second opinion. If you are given a test that is always conclusive, as in a test for diabetes, and the diagnosis is clear, then a second opinion is not necessary. However, if a diagnosis is in question, or if it is based on tests that do not have conclusive results, then it is always a good idea to request a second opinion. Timing of the second opinion should be a question of urgency. Ask yourself, "Do I have days, weeks or months before acting on my health problem?" Ultimately, a second opinion is to inform you in your health choices. Gathering information should be balanced with the need to act.
A lot of people have the wrong idea that second opinions are only for life and death situations. Say, when your doctor diagnoses you with something serious, or when he wants to take your leg off (even if he's told you why).
But there are plenty of common circumstances in which having another physician weigh in could be a big help. Even those as seemingly routine as managing high blood pressure, or perhaps diagnosing a persistent skin rash that your doctor thinks is harmless. Even if your life isn't at stake, seek a second opinion if...
Your doctor says you need surgery.
Your doctor is stumped by your condition and can't diagnose it.
Your doctor isn't a specialist in the disease you have.
The care or treatment you're receiving just isn't working after a reasonable period of time.
Your doctor doesn't seem to be taking your symptoms seriously enough.
You've lost faith in your doctor or you've ceased to communicate well.
You want to try other treatment options. Just be careful here, because if you keep looking, you'll eventually find a doctor who will tell you what you want to hear.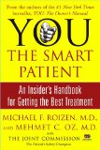 Continue Learning about Managing Your Health Care