There are three things you should pack for yourself when you're taking your child to the hospital:
Bring a notebook to write down the names and titles of your health care team and details about tests, medications, and procedures. This will let you keep everything in one place. It's also a good way to start a detailed medical record for your child if you don't have one yet.
Bring your cell phone, charged up, of course.
Bring your own favorite pillow or throw or anything that will help you sleep at night.
From The Smart Parent's Guide: Getting Your Kids Through Checkups, Illnesses, and Accidents by Jennifer Trachtenberg.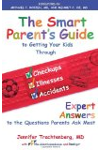 Continue Learning about Managing Your Health Care