When you meet the emergency medicine (EM) doctor, hospitalist, social worker, charge nurse or a consulting physician, ask for their business card so you can reach them later on. If they don't have one, write down their name and how to reach them in a note pad. And don't forget to thank the people who help you. It will go a long way in making everyone's day brighter, including your own.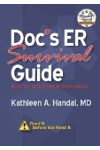 More About this Book
Doc's ER Survival Guide (DocHandal's Guides)
Few people get through life without at least one trip to the emergency room (ER), either as a patient or support person for a family member or friend. Doc's ER Survival Guide is designed to help...
Continue Learning about Managing Your Health Care