Plan ahead and reach out to family and friends. Take them up on their offers to help (if they didn't offer, no holiday newsletter for them). Having people to run errands, help with driving, and watch your other children during the disruption can be amazingly helpful. If someone has a nice, hot meal waiting for you at home, even better.
Get over any guilt. If you're like most moms and dads I know, you're a giving person and would help out a neighbor or friend with a sick child in a moment, so be open to receiving help this time. Remember, it's impossible to do it all yourself. And you'll have plenty of chances to return these favors. Parental union bylaws demand it.
Don't forget to alert teachers and counselors at your children's schools; they can smooth out potential hassles due to missed time and, more important, act as your eyes and ears, watching for any behavior changes or signs of stress among your other children. Make sure, too, that you and your spouse take care of yourselves and try (try; that's all I'm saying) to get enough rest and eat properly.
From The Smart Parent's Guide: Getting Your Kids Through Checkups, Illnesses, and Accidents by Jennifer Trachtenberg.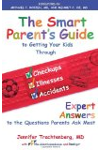 Continue Learning about Managing Your Health Care