The hospital wasn't clean, or your meds were consistently screwed up? The place just isn't safe? Get mad! Complain! Here's how: If you're in a Joint Commission–accredited hospital (another reason to choose one), voice your grievance (anonymously, if you prefer) by calling the Joint Commission's Patient Safety Hot Line at (800) 994-6610 (weekdays, 8:30 AM to 5:00 PM central time), or describe the problem in no more than two pages and e-mail it to complaint@jcaho.org.

You can also find the form at http://www.jcaho.org; click on "Have a complaint," and it will take you to the report form. You can fill it out online or print it out and mail it to the address given on the Web site. Make sure you include all the identifying information about the health care organization (name, full address, city, and state).

If the patient is still in the offending hospital or you're an employee there, don't worry about retaliation because it's kept strictly confidential (honestly). What the Joint Commission cannot help you with? Billing issues or disputes, insurance issues, personnel concerns, and anything at all at an unaccredited facility. Call if you're in doubt.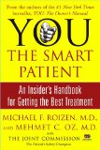 Continue Learning about Managing Your Health Care