In addition to asking your physician's opinion and assuring that you have chosen a hospital that accepts your insurance, there are public rating systems that help you evaluate how a hospital is performing compared to others. These sites present a large amount of useful data on both quality and patient satisfaction results. The following are two sites to consider:
Medicare Hospital Compare https://www.medicare.gov/hospitalcompare/search.html
Healthgrades http://www.healthgrades.com/quality/
These and other public data sites are available which allows patients and their families to determine the best hospitals in their area.
When looking for a hospital, getting word-of-mouth referrals from friends, relatives, and people who work in health care is a good start. But the facts you'll get by asking your hospital candidates the following questions will be far more valuable.
You'll know some of the answers right away, others you'll find on the hospital's Web site, and a call to the hospital's main number with fill in any stragglers. The questions are ordered from most important to least, so if you circle NO to the first three or more, move on. If you answer YES to eight or more, including the first three questions, you might have a love connection.
Does your primary care doctor treat patients at this hospital?
Will your health insurance cover treatment at this hospital?
Is the hospital accredited by the Joint Commission? And is its accreditation current and in good standing?
Is it a "magnet" hospital? Facilities with a high number of well-trained nurses earn this status from the American Nurses Credentialing Center. Click on www.nursingworld.org/ancc to see if the hospital made the cut.
Does the hospital employ full-time intensivists (doctors who specialize in treating critically ill patients) and full-time hospitalists (doctors who only treat hospital patients and have no private practice)?
Is it a teaching hospital affiliated with a major medical university? These hospitals tend (TEND! Please, no hate mail!) to have the most experienced staffs and the most thorough resources.
If residents participate in patient care, are they adequately supervised by the attending physicians?
Does the hospital specialize in your specific condition?
Does the staff use a computerized system to enter patient orders and prescriptions? Using this technology is far safer than writing everything on paper. In fact, it can prevent as many as two thirds of medication errors alone.
Has your primary care doctor or his or her family member ever been treated at this hospital for a serious problem as an inpatient?
Does the hospital look generally clean and well kept? Trust your instincts.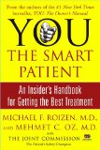 Continue Learning about Managing Your Health Care