The first step in choosing a primary care physician (PCP) is to ask your friends and family whom they see and would recommend, then call your insurance company to find out which doctors are in your network. As you begin building a list of possibilities, assess the practices' proximities to your home and find out with which hospitals the doctors are affiliated. Be sure you devote enough time to the search for a PCP and perform your due diligence because the decision you make is an investment in your wellness.
As a nurse, I recommend to patients that they consider communication a high priority when choosing their primary care provider, (aka PCP.) The more comfortable you feel with your doctor, the more productive and effective the relationship will be. There needs to be a certain element of trust on both sides. I have worked with clients who prefer "all business" doctors and I have also seen very good physician-patient relationships where the doctors are more informal.
While research is important, it's not necessary to choose a primary care physician because he or she is listed on some arbitrary Top Ten list. The important thing is that the physician is responsive to your particular needs.
Once you have gotten a few names of physician offices you'd like to try or evaluate, call them up, ask if they offer 'informational' appointments. This brief visit is often not charged and is not intended to be a medical consultation at all. It allows you to go in, meet with the potential doctor, ask questions (but not about any clinical issue), get a sense as to how they respond and whether you think their style will work for you. It does involve an investment of your time, but let's face it, this is an important relationship that you're establishing. You want to make sure you're making the right choice.
When considering a new primary care physician or any specialist, do your Homework! It is essential that the physician be Board-Certified in the medical or surgical specialty you desire. Check out the doctor's hospital affiliations, malpractice records, years in training and private practice, and get referrals. Ask to speak to several existing patients if possible.
The first thing you'll do when searching for a primary care doctor—or a roofer, or plumber, or mechanic—is ask your friends, neighbors, and co-workers for a referral. If you're lucky enough to have relatives or friends who works in healthcare (don't forget paramedics and E.M.T.s), make a beeline for them, of course. Bring coffee cake.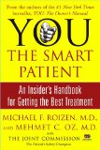 Continue Learning about Managing Your Health Care