The length of time a patient is in the hospital has decreased significantly. This is both to increase quality of care and to decrease costs. Data shows that the longer a patient stays in the hospital, the greater the risk that the patient will acquire an infection. Hospitals and physicians now must meet guidelines by Medicare and commercial insurance payors in order for a patient to remain hospitalized. This means that the doctor must show a "medical" reason for continuing the hospitalization. Some things do not qualify as a medical reason. For example, if the patient has no one at home to care for them, the options may include sending the patient to a less acute facility or to arrange for a home health provider to visit the patient. If you feel that you are being discharged too soon, let your doctor, nurse and insurance company know your concerns. If you are not eligible to stay, request that other options for assistance be explored.

As eager as you are to get out of the hospital—and we know you'd never hang around the place as if it were a spa—sometimes you may not be physically ready to go home when the hospital (or your health insurance company) wants to discharge you. However great the temptation to leave, you can put yourself in danger—or experience a new high in misery—if you head home while still needing hospital care.

Ask your doctor to extend your stay, and if that doesn't work, "escalate the situation," as they say in customer service. Enlist your health care advocate. Ask the department's head doctor for help, call your insurance company, and otherwise go up the chain until you're ringing 1600 Pennsylvania Avenue.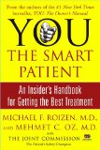 Continue Learning about Managing Your Health Care