The RDA for Magnesium varies according to your age and gender. Magnesium is found primarily in green leafy vegetables, unpolished grains, nuts, meat, starches and milk.
RDA for Children ages 1-3 is 80mg, 4-8yrs is 130mg.
Males ages 9-13 is 240mg, 14-18yrs is 410mg, 19-30yrs is 400mg, 31to>70yrs is 420mg.
For females ages 9-13 RDA is 240mg, 14-18 yrs is 360mg, 19-30 yrs is 310mg, 31 yrs to >70yrs RDA is 320mg.
During Pregnancy RDA for <18 yrs is 400mg, 19-30 yrs is 350mg, >31yrs is 360mg.
During Lactation RDA for <18yrs is 360mg, 19-30 yrs is 310mg, >31yrs is 320mg.
Magnesium is an essential mineral that's necessary for bone strength, as well as dozens of metabolic reactions. Almost 2/3rd of the magnesium in the human body is found in bones. The Recommended Dietary Allowance for magnesium varies, depending on age and gender. Newborns should get 30 mg per day, while adult men should get 420 mg per day.
Outright magnesium deficiency is considered rare. Chronic poor intake, combined with some medical conditions, could deplete magnesium stores. Elderly people may not absorb magnesium so well, and their kidneys may excrete it more readily. Alcoholism, kidney and digestive diseases can all contribute to poor absorption and excess loss in urine. Research has linked low blood magnesium levels to high blood pressure and heart disease.
What foods have magnesium? This mineral is a key part of the green pigment chlorophyll, which is abundant in green vegetables. So you can expect that leafy greens and other green-colored vegetables will be good sources of magnesium. It's also high in whole grains, nuts and nut butters. If you eat plenty of those foods every day, you likely have an adequate intake.
Unfortunately, diet surveys show that the average intake of this important mineral is below the RDA. For example, intake for adult men hovers around 320 mg/day, compared to the recommended intake of 420 mg. A diet full of highly processed foods, with few dark green vegetables or whole grains, would be low in magnesium.
Simply adding a supplement to an overly processed diet isn't a good solution, since those foods are also good sources of other key nutrients like potassium, antioxidants and fiber. Improving your intake from foods is the first step. Supplements, which typically provide 250 mg of magnesium, should be taken with food.
Children 1-3 years old 80 mg/day
Children 4-8 years old 130 mg/day
Children 9-13 years old 240 mg/day
Teens 14-18 years old 410 mg/day for boys, 360 mg/day for girls
Adults 19-30 years old 400 mg/day for men, 310 mg/day for women
Adults 31+ years old 420 mg/day for men, 320 mg/day for women
Pregnant women 360 - 400 mg/day, depending on age
Breastfeeding women 310 - 360 mg/day, depending on age
Magnesium assists in regulating blood pressure, maintaining normal muscle and nerve function and supporting immune function. The recommended dietary allowance
(RDA),
for magnesium varies depending on gender and age. Review the following information to locate your daily RDA for magnesium:
Females:
9-13 years = 240 milligrams; 14-18 years = 360 milligrams
19-30 years = 310 milligrams; 31 years and over = 320 milligrams
Pregnant / Breastfeeding Females
:
14-18 years = 400 milligrams / 360 milligrams;
19-30 years = 350 milligrams / 310 milligrams
31-50 years =360 milligrams / 320 milligrams
Males:
9-13 years = 240 milligrams; 14-18 years = 410 milligrams
19-30 years = 400 milligrams; 31 years and over = 420 milligrams
Excellent sources of dietary magnesium can be found in tuna, halibut, almonds, Brazil nuts, cashews, walnuts, artichoke, spinach, pumpkin seeds, oat bran, Black beans and navy beans.
The Recommended Dietary Allowance (RDA) for magnesium is 350 mg per day for adult males and 300 mg per day for adult females. For pregnant and lactating women, the RDA is 450 mg per day. Many nutritional experts feel that the ideal intake for magnesium should be based on body weight (6 mg per kg of body weight). For a person weighing 110-lbs, the RDA would be 300 mg; for a person weighing 154-lbs it should be 420 mg; and for a person weighing 200-lbs, 540 mg.

The average intake of magnesium by healthy adults in the U.S. ranges between 143 and 266 mg per day. This is obviously far below the RDA. Food choices are the main reason. Since magnesium occurs abundantly in whole foods, most nutritionists and dieticians assume that most Americans get enough magnesium in their diet. But most Americans do not eat whole foods; they consume large quantities of processed foods. Since food processing removes a very large portion of magnesium, most Americans do not get the RDA of magnesium.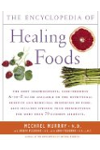 More About this Book
Encyclopedia of Healing Foods
From the bestselling authors of The Encyclopedia of Natural Medicine, the most comprehensive and practical guide available to the nutritional benefits and medicinal properties of virtually everything...
Continue Learning about Magnesium