5 Ways to Lighten Your Luau
Local favorites are laden with fat and calories. Trim your classic Hawaiian dishes with these simple tips.
Medically reviewed in July 2022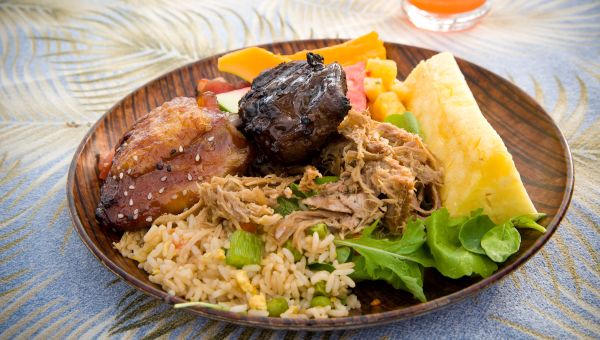 1 / 6
You can see it now: Kalua pork, lomilomi salmon, poke, mac salad, white rice, spam musubi, poi, pipikaula and a big slice of chocolate haupia pie. Family get-togethers and local-style luaus always have ono grinds. But these tasty eats come with a price tag for your health—they're often full of fat, calories and sodium, which can take a toll on both your waistline and overall wellness.
Thankfully there are ways to lighten luau favorites. We spoke with nutritionists Monica Esquivel, PhD, RDN, Dietetics Program Director at UH Manoa in Honolulu, and Tandis Bishop, RDN, LD, CDE, at 'Ekahi Health Lifestyle Medicine in Honolulu, for ideas on how to cut calories without sacrificing flavor. 2 / 6
Go meatless
Cutting out meat might sound drastic, but with a growing variety of plant-based meat substitutes on the market, it's not as hard as it sounds. Take poke, for example. In addition to bite-sized ahi, many stores and restaurants now offer tofu poke. Some have even gone a step further and make poke from Hawaiian staple plants breadfruit and taro. These vegetarian options are still dressed in shoyu, green onion and limu to give it that ocean flavor.
Bishop is a major proponent of plant-based nutrition, along with reducing or removing processed meats such as Spam. "The research shows that processed meat is a carcinogen," she says. Instead of Spam in your musubi, Bishop suggests taking a thin slice of tofu, marinating it in shoyu and baking it or giving it a quick saute.
Aside from the carcinogenic potential, changing out processed meat for tofu is a savvy nutritional trade. A two ounce serving of Spam is 180 calories, 16 grams of fat and a whopping 790 milligrams of sodium, whereas a three ounce serving of tofu is 70 calories, 3 grams of fat and only 15 milligrams of sodium.
Other dishes can be made vegetarian by simply adding more of the other main ingredients. For example, Bishop recommends making vegetarian Portuguese bean soup with added beans. 3 / 6
If you eat meat, go lean
If the draw of some Kalua pork or fresh ahi is too much to pass up, don't worry. There are ways to cut calories here too. One approach is by opting for lean proteins. Instead of a fatty Kalua pig, consider using the same recipe on chicken thighs or breasts.
"I start with a dark meat chicken, then go to white meat chicken, or mix the two," says Dr. Esquivel.
While meat can be part of a healthy, balanced diet, it's important to remember that not all animal protein is created equal. Meats such as beef, lamb and pork contain more saturated fat, which can increase your cholesterol and negatively impact heart health. Skinless chicken and fish tend to be lower in saturated fat, making them a better choice overall.
For comparison, a Kalua pork with cabbage plate lunch at a popular local chain restaurant nets 1,204 calories and 67 grams of fat including 18 grams of saturated fat, while a BBQ chicken bowl at the same eatery is only 460 calories and 10 grams of fat with 1 gram of saturated fat.
For die-hard pork lovers, consider trimming the excess fat before cooking, or take Esquivel's advice and drain the fat and oils afterwards. "You can add back in some beef stock if it's dry," she recommends. 4 / 6
Pile on the veggies
It's no secret that vegetables are low calorie and nutrient rich. Bishop and Esquivel both suggest adding vegetables to dishes as a way to slash calories and fat without sacrificing flavor.
"I shred up lots and lots and lots of cabbage, and I mix it in with the Kalua pork to offset some of those dense calories from the pork and the fat," says Esquivel.
She also notes that laulau typically contains a fatty cut of pork and a little fish, but very few starchy veggies. "Maybe have a little less meat and have some of those local starchy vegetables. That can help cut down on the fat."
Even your beloved mac salad can benefit from some added greens. "We know vegetables are lower in calories," says Esquivel. "Add more of the spiced-up carrots, or celery, or other veggies to the mac salad that might help decrease the overall density of a portion." 5 / 6
Make smart swaps
For many delicious yet fatty ingredients, there are easy trades that are so good you might not even notice the difference. You probably know swapping brown rice for white adds in a healthy whole grain with more nutritional value, but have you heard of cauliflower rice? Cauliflower "rice" is only 24 calories per cup compared to 200 calories for the same amount of cooked brown rice. You can easily make cauliflower rice at home with a food processor or blender, or you can buy ready-made cauliflower rice in the freezer section at the grocery store.
Another idea is to use plain Greek yogurt instead of mayonnaise when making macaroni or potato salad. A single tablespoon of regular mayonnaise has about the same number of calories as a full four-ounce serving of low-fat Greek yogurt and three times as much fat. Swap equal parts Greek yogurt for mayo in your favorite recipe. 6 / 6
Portion size matters
Aside from making clever swaps or adding veggies, you can make any meal healthier by portioning your plate appropriately. It's fine to eat any foods, even full-fat options, as long as you don't have too much.
"I come from the doctrine of nothing is bad for you. The poison is in the dose," says Esquivel. Try to fill your plate with mostly low-cal options like cauliflower rice, poke and veggies. Esquivel recommends: "When you look at a luau plate, there's a big square, and then the little squares. Try to keep the Kalua pork in a little square." Also remember that luaus tend to be big family occasions and you probably wouldn't eat those rich foods every day.
Hawaii is known for onolicious food that people enjoy all over the world. With these simple tips, you can enjoy healthier local eats that don't skimp on flavor. Replay Slideshow