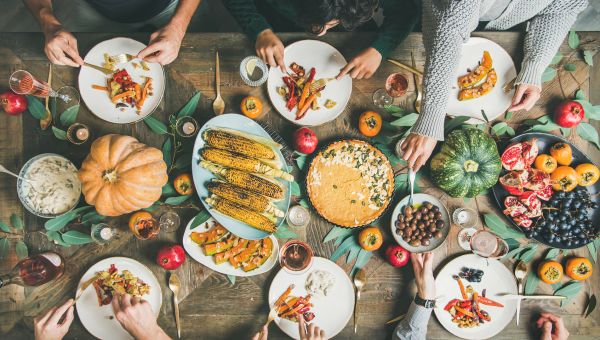 Healthy, mouth-watering meals anyone can make.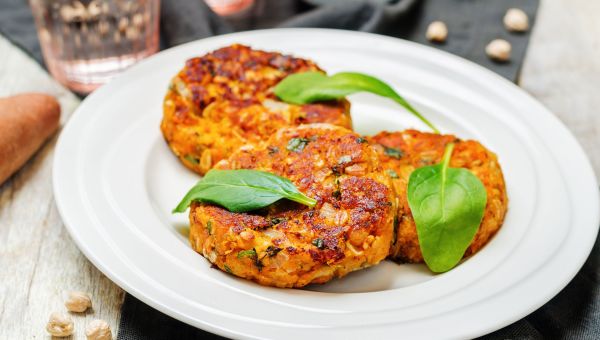 2 / 9

MAKE MEATLESS MONDAY LAST

Meatless Monday is a popular trend worldwide thanks to a mounting body of evidence on the health benefits of plant-based eating. Cutting down on meat can help save:
Your bank account: Plant proteins like beans and soy are cheaper than meat
Your health: Red meat can increase your cholesterol and raise your risk of heart disease and colon cancer
In fact, a 2013 analysis of numerous studies found that the biggest meat eaters were 29 percent more likely to die early than those who ate the least amount of meat. So don't stop after Monday—eating more plant-based meals may help you live longer. 3 / 9

Cooking hacks for easy meatless meals

These simple tricks can make meal prep a breeze:
"Try different kitchen gadgets because they make preparing vegetables super easy," says Brock. Some of her favorites include a garlic press, food processor and a spiralizer, which shreds veggies like zucchini into long, thin strips. "They add crunchy texture to dishes," she says.
Add beans to pastas, soups and salads for an easy protein boost.
Invest in a four ingredient plant-based cookbook. "It'll provide inspiration when you first start out and help you avoid eating the same thing each night, which can be discouraging," she says. Here are some simple, meat-free recipes from Brock's kitchen.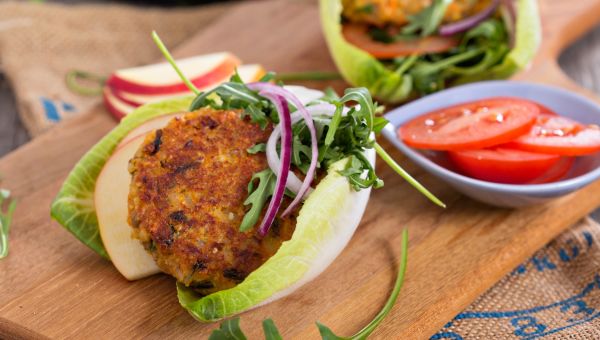 4 / 9

Savory sweet potato patties

"This recipe is very versatile," says Brock. "You can serve sweet potato patties alongside a salad or sautéed veggies."

Other options? "Wrap the patty in lettuce or eat it on its own, topped with tomatoes, avocado and a little bit of low-sodium barbeque sauce," she says. To make the patties, boil 1 medium sweet potato and mash together with 1 can of drained garbanzo beans.

Then, mix in:
Herbs and spices of your choice
1 tablespoon of flour
1 egg or flax egg substitute (to make flax "egg," combine 1 tbsp. water with 3 tbsp. ground flax seed and let sit for 5 minutes before adding to the patty mix)
Lightly coat a skillet with olive oil; warm over medium heat. Form the potato mixture into patties and sauté for about 5 minutes on each side, or until golden brown.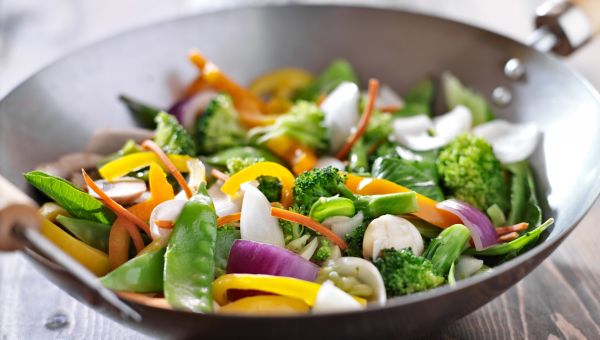 5 / 9

Incredibly simple stir-fry

"You can add so many different vegetables to a stir-fry and create whatever concoction you want," says Brock. This is her go-to mix:
Slice or chop bell peppers, carrots, baby corn, broccoli and tomatoes.
Warm a pan to medium heat; add 4 to 6 tablespoons of water.
When the water starts to steam, add vegetables according to how long it takes them to cook. Start with the carrots and broccoli. When they start to soften, add the bell peppers, baby corn and tomatoes. Add small amounts of water as needed; cook until all veggies are tender.
Serve over brown rice or quinoa with a drizzle of low sodium teriyaki or orange sauce. Add chickpeas or tofu for protein. 6 / 9

Protein-packed salad

Forget tasteless lettuce and longing for real food. Salads can, in fact, add variety to your diet by letting you experiment with new flavors, colors and textures. Start with a mix of greens and chopped veggies. Then, add ingredients from other food groups like:
Grains: Try quick-cooking bulgur or millet
Nuts and seeds: Cashews, flaxseeds, chia
Protein: Edamame, lentils, peas
Here's one combination that will have you licking the bowl: Mix cooked quinoa, raw broccoli florets, dried cranberries and chopped pistachios. Top with a spritz of lemon.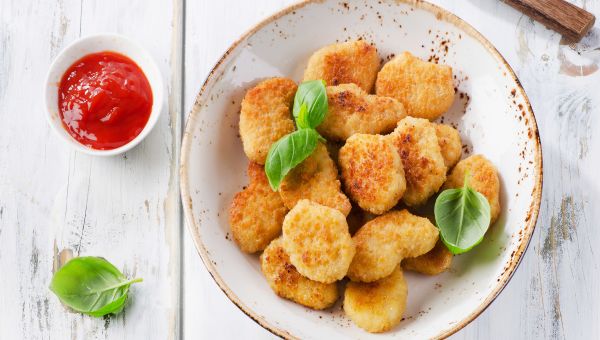 7 / 9

Homemade "chik'n" nuggets

These meatless "chik'n" nuggets are actually made from cauliflower, says Brock.
Steam one head of cauliflower enough that it can be chopped, keeping some of its consistency. After it's cool enough to touch, place on paper towels and pat dry.
Break up the florets and place in a food processor.
Add one egg, some breadcrumbs and your choice of seasonings. Chop it enough to mix the ingredients.
Preheat the oven to 350°. Shape the mixture into nuggets and place them on a cookie sheet that's lightly coated with olive oil. Bake for about 10 minutes on each side, or until golden brown. Serve as a healthy side dish or a satisfying snack.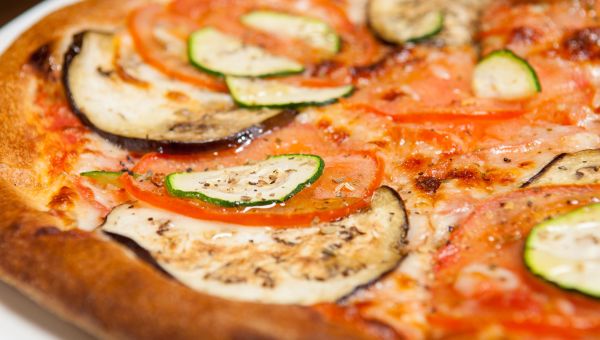 8 / 9

Tasty veggie pizza

"Pizza doesn't always have to be a guilty pleasure," says Brock. "It's easy to make a healthy, meat-free version at home."

Buy a thin, whole grain pizza crust. Top with:
Homemade pasta sauce: Mix 1 can tomato sauce, 2 cloves pressed garlic, 1 tablespoon Italian seasoning
Your choice of sliced vegetables like tomato, chopped spinach, mushrooms, onion, zucchini, bell peppers, olives
Low fat or vegan cheese, or nutritional yeast for cheese flavor
Preheat the oven to 400°. Bake according to the directions for the crust, usually for around 18 to 20 minutes. 9 / 9

Spicy black bean burger

"With both black bean burgers and sweet potato patties, the bun isn't necessary since they're already so rich and filling," Brock says. "I usually leave the bun off because it adds too much starch. With the Black Bean Burger, I add a little onion and bell pepper for texture, plus a jalapeno and chili powder for a bit of kick."
Mash 1 can drained black beans
Mix in 1 finely chopped jalapeno and ½ finely chopped onion
Season to taste with taco seasoning or chili pepper
Lightly coat a skillet with olive oil and warm over medium heat. Form the bean mixture into patties and sauté for about five minutes on each side. Top with guacamole and tomato slices.
Read more from Anne Brock, RD.
Continue Learning about 100 Days to 100 Years