If you have Parkinson's disease, try these hosiery and footwear tips to make dressing and walking easier:
Choose the right shoes. If you have a shuffling gait, soft rubber soles make walking more difficult, especially on carpeting, where the soles can stick and cause you to trip. Hard leather soles can be very slippery on linoleum or tile floors.
Use elastic shoelaces in place of normal laces, so that you will only have to tie your shoes once. Just slip your shoes on and off.
Have a shoemaker convert your traditional tie- or buckle-close shoes into Velcro-closing shoes. Or buy slip-on shoes instead of tie shoes.
Put on your shoes with a long-handled shoehorn to minimize bending and reaching.
Wear tube socks. Tube socks are easier to put on than socks that are shaped like a foot. Sew loops into the inside of each sock and use the loops to pull on your socks.
Support hose and compression socks may relieve painful, swollen feet. Support hose, available at travel shops and pharmacies, give your legs extra support for less fatigue and better circulation. Compression socks must be prescribed by your doctor; your insurance might cover part or all of the cost. Putting on the socks requires some strength and practice, and you may need assistance. The socks come in navy, black, and flesh tones.
Sprinkle cornstarch on the bottom of your feet and around the heel area to make pulling on nylon stockings or socks easier.
Alter your slacks to accommodate an ankle-foot orthotic (AFO) brace. If you wear an ankle-foot brace that fits inside a shoe and goes up the calf, it will be easier to dress if you sew a 7-inch zipper into the inside seam of your slacks.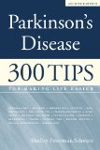 Continue Learning about Living With Parkinson's Disease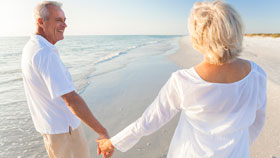 You may find that you need to make accommodations in your day-to-day life with Parkinson's disease. Eating a diet high in fiber, regularly exercising and sticking to your healthcare provider's orders can help you stay active and k...
eep your mobility.
More