If you have Parkinson's disease, these tips can help make reading easier:
Use a ruler or piece of paper as a guide to help your eyes track the lines on the page you are reading.
Use the eraser on a pencil or a rubber fingertip (like those used by secretaries and bookkeepers) to turn pages in a book.
Purchase a full-page sheet magnifier made of wafer-thin plastic that magnifies an entire page at one time. Or, use a hand-held magnifier to help you look up telephone numbers, scan maps, examine floor plans, read operating instructions or stock market reports, handle hobby and needlecraft projects, and make other tasks easier. Lighted magnifiers may be found at book, craft, or home health stores.
Check out the large-print book selection at your local library. Take advantage of the library's collection of large-print and audio books. The Large-Type Books in Print directory includes books and periodicals published in large print. This reference book is available at most major libraries.
The Book Clubs division of Doubleday & Company has a large-print home library. A wide range of full-length hardcover best-sellers, including fiction, mystery, romance, and how-to titles, are offered.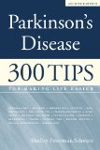 Continue Learning about Living With Parkinson's Disease