Here are some safety provisions you can make in your house if you have Parkinson's disease:
Put glow-in-the-dark tape or stickers on the handles of flashlights so that you can find them easily if your electricity goes out.
If you have diminished sensitivity to temperature, set your water heater's thermostat somewhere below 120 degrees Fahrenheit to avoid accidental scalding while bathing or washing.
Install smoke and carbon monoxide detectors upstairs and downstairs in your home. Having smoke detectors is important because the loss of the sense of smell is associated with Parkinson's disease. Having detectors for carbon monoxide, an odorless gas, is important in every home. Replace the batteries in these detectors once every year; replace the detectors themselves every 5 to 10 years.
Use Motion PAD to alert you or others. The Motion PAD is a motion sensitive device that chimes or plays a single prerecorded message when activated. Hang it on or place it near a door, and the chime will sound when the door is opened, signaling you that a confused adult is leaving the house. It also can be used to signal a care partner when assistance is needed, perhaps when medication wears off. Recording a message is easy and can be locked to prevent re-recording. Uses four AA batteries.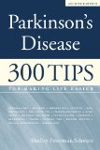 Continue Learning about Living With Parkinson's Disease