Here are some tips for making your living room safer and more accessible if you have Parkinson's disease:
Walking or wheeling on carpet is easier if the carpet pile is very short. It is easier still on wood, linoleum, or ceramic floors; however, bare floors and ceramic tiles can be slippery when wet, so use caution. You may want to consider changing the floor covering or surface.
Use furniture that is sturdy and stable. Generally, the best sitting chair has a relatively straight back, a firm, shallow seat, and armrests. Avoid low, heavily upholstered couches and chairs, because it is often difficult to rise from them without help. Sofas or chairs should be approximately 17 inches off the ground; the seat should be no lower than knee height. Add a firm cushion or attach risers to the chair legs to increase the height of the chair. For some, a comfortable, heavy rocking chair with armrests may help, because it can give you an extra boost when rising.
Place a clear plastic chair protector on upholstered dining room chairs and gain several advantages—prevent spills from staining fabric and make it easier to change position and slide on and off the chair seat.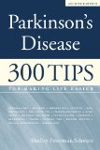 Continue Learning about Living With Parkinson's Disease