Managing a chronic disease like diabetes is challenging. Many people get stressed out because their expectations aren't realistic. They expect they're going to be perfect and lose a lot of weight very quickly, or that their sugars will be perfect. Minimize stress by setting realistic goals. Then focus on the rewards of your actions, such as having more energy and control. Be sure to get support from other people, too. Involve family, friends, or a support group in your quest to reach your goals.
Some common stress reduction techniques for diabetes include meditation, mindfulness, breath work and relaxation. Watch endocrinologist Reza Yavari, MD, discuss the importance of stress reduction if you are managing diabetes on a regular basis.
You may be able to get rid of some stresses of life. If traffic upsets you, for example, maybe you can find a new route to work or leave home early enough to miss the traffic jams. If your job drives you crazy, apply for a transfer if you can, or possibly discuss with your boss how to improve things. As a last resort, you can look for another job. If you are at odds with a friend or relative, you can make the first move to patch things up. For such problems, stress may be a sign that something needs to change.
There are other ways to fight stress as well:
Breathing exercises: Sit or lie down and uncross your legs and arms. Take in a deep breath. Then push out as much air as you can. Breathe in and out again, this time relaxing your muscles on purpose while breathing out. Keep breathing and relaxing for 5 to 20 minutes at a time. Do the breathing exercises at least once a day.
Progressive relaxation therapy: In this technique, which you can learn in a clinic or from an audio tape, you tense muscles, then relax them.
Exercise: Another way to relax your body is by moving it through a wide range of motion. Three ways to loosen up through movement are circling, stretching and shaking parts of your body. To make this exercise more fun, move with music.
Replace bad thoughts with good ones: Each time you notice a bad thought, purposefully think of something that makes you happy or proud. Or memorize a poem, prayer or quote and use it to replace a bad thought.
Whatever method you choose to relax, practice it. Just as it takes weeks or months of practice to learn a new sport, it takes practice to learn relaxation.
If stress, depression or anxiety become too much for you to handle, you may need some professional help. Psychiatrists, psychologists, social workers, therapists and even life coaches can help you. Counseling may be all that is necessary, but some people may need antidepressant or antianxiety medication. Remember, though, that many studies have shown that regular exercise is a powerful tool in the battle against depression and anxiety. If you're feeling blue, try ramping up your exercise as the first step.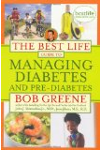 Continue Learning about Living with Diabetes