While, a lot of the time, you may not be in the mood to talk things out, you should take the time to share your feelings about your cancer with someone. So do some research on psychotherapists, or even marital counselors and/or sex therapists. Talk about your feelings with friends and family members. Or, if you'd rather talk to someone who has a better chance of understanding where you're coming from, seek out a peer support group in your area.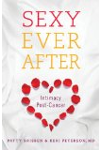 More About this Book
Sexy Ever After: Intimacy Post-Cancer
Recent studies show that 40-100 percent of men and women who have been treated for cancer have experienced some level of sexual dysfunction. Sexy Ever After: Intimacy Post-Cancer will help you...
Continue Learning about Living With Cancer