A great way to do short arc squats will be to go up to the end of your kitchen table or to a surface that is higher than a chair. Stand in front of the surface with your heels towards. Slow bend at your hips and knees lowering you to the surface of choice. Be sure to keep your weight in your heels and to keep yourself as balanced and as controlled as possible. Return to the starting position.
Here's how to do the short arc squats/wall slides exercise:
1. Stand with your back up against a wall and your legs shoulder width apart. Place two rolled towels or a medicine ball between your knees.

2. Brace your core and pull your navel toward your spine.

3. While keeping your core engaged, slowly slide your back down the wall until your knees are bent to approximately 60 degrees. This is just shy of parallel to the floor. Limiting the knee bend will decrease the pressure on your knees and still work your quads.

4. Hold in the bent position for ten seconds and repeat ten times. Do two sets.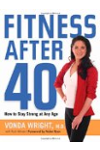 More About this Book
Fitness After 40: How to Stay Strong at Any Age
It's one of the undeniable facts of life. After we reach a certain age, our bodies change. No matter how fit we may have been at 20, we're very different people after 40. But growing older doesn't...
Continue Learning about Leg Exercises