A breech birth is when the baby is positioned to come out feet or butt first. In this video, I will explain how malformations of the uterus can relate to this condition, as well as the baby's movement.
There are lots of explanations why your baby might be in breech position (head up) before delivery, including structural limitations in your uterus and carrying multiples (so there's no room to flip). Another reason: Slower development of the inner ear or inadequate blood supply to the brain that can hinder balance.

Doing certain exercises while you're pregnant may help prevent a breech birth.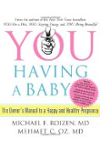 A breech presentation is when the fetus is coming "butt first". There are numerous reasons for a breech presentation, but the most common cause is an abnormality in the uterus or in a patient's pelvis. Also, it is very common for multiple pregnancies to have one of the fetuses be in the breech presentation. There are numerous exercises that can be performed that will help to deter breech presentations as well as there are some chiropractic maneuvers that can help relax the pelvis and relax the muscles in the pelvic girdle that can allow a breech fetus to turn towards a vertex (head down) position.
Continue Learning about Labor, Delivery & Post Period Of Pregnancy
The first signs of labor can be the loss of your mucus plug, your water breaking, and/or regular contractions. Labor progresses in stages and normal progression means that vaginal delivery is possible. If there are complications, ...
your doctor may choose to delivery through C-section to lower the risk of trauma to you and your baby. After delivery, you may experience sore breasts, incontinence, vaginal discharge, hemorrhoids, and discomfort around your vagina (especially if an episiotomy was conducted). Some mothers experience what is known as the baby blues which may include crying, irritability, or sadness. This is often due to the hormonal and physical changes that take place after childbirth. Talk to your doctor if your physical or emotional symptoms become more serious.
More