How should I climb stairs after knee replacement surgery?
Learn the technique for stair-climbing after knee replacement surgery in this video featuring Paul Toogood, MD, an orthopedic surgeon at Regional Medical Center of San Jose.
After knee replacement surgery, be safe with stairs. If you must climb stairs, there are a few things to keep in mind to be safe:
Avoid stairs if you are unsteady or dizzy.
Climb the stairs one at a time.
Do not switch feet for each new stair.
Use crutches if instructed by your therapist. Your therapist will have you practice stair climbing, if needed.
Continue Learning about Knee Replacement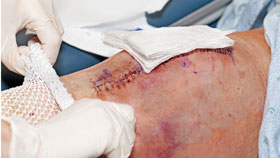 Painful knees are a common problem - often the result of wear-and-tear from sports injuries or obesity, which leads to a degenerative form of arthritis called osteoarthritis. Pain relievers and other treatments can help. When knee ...
damage is severe, a total knee replacement can relieve the pain and allow you to be more active again. Learn more about knee replacement surgery from out experts.
More