Your middle- and high-school-age child is becoming an independent learner and thinker, and at this age children often become passionate about subjects and interests that they can relate to. Whether your child is enthusiastic about music, sports, literature, science, or history, encourage and support her interests and recognize that your child is becoming the self-reliant, independent, and life-long learner you've always hoped for.
Communication and language skills include:
Comprehends and uses analogies, inductive and deductive reasoning
Understands metaphors and similes
Uses idioms and slang terms
Begins understanding ambiguity and sarcasm
Masters proper syntax
Continues to expand vocabulary
Seeks to interact with adults on a more mature level
Increasingly able to engage in debate
Cognitive and intellectual skills include:
Initiates and carries out tasks without supervision
Begins to develop ability to think in much broader terms, recognizes how things are connected to one another
Begins to develop advanced reasoning skills, allowing him/her to think about multiple options and possibilities
Begins to develop abstract thinking skills, considering things that cannot be seen, heard, or touched
Begins to develop metacognition skills allowing him/her to examine how he/she is feeling, what he/she is thinking
Sets goals based on feelings of personal needs and priorities
Explores topics of interest in depth
Enjoys playing with ideas
Demonstrates a heightened level of self-consciousness
Can handle proportions, algebraic manipulation, and other purely abstract processes
Begins seeking own solutions rather than asking adults for assistance
From Good Kids, Bad Habits: The RealAge Guide to Raising Healthy Children by Jennifer Trachtenberg.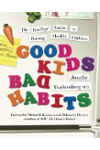 As children develop there are multiple milestones that they are typically expected to reach between the ages of 11 to 17. Socially, children will start to spend more time with their peers and begin to try to form their own identity. They will often begin to form new role models, other than their parents. Physically, they will begin to have significant growth spurts and changes associated with puberty. Intellectually, children will start to question rules. They may also develop a sense of "invincibility."

There will also be large changes during this period from an emotional and behavioral standpoint. In this age group, children may begin to act out or rebel with rule breaking, drugs and fighting. They will be going through emotional and hormonal changes that may lead to frustration; they want to avoid family and things they used to find enjoyable. Remember, though, that all children will develop at different rates. If you have any concerns about your child's development, discuss this with his or her doctor.
Continue Learning about Children's Health