IUDs do a great job at preventing pregnancy, but they have the potential to make the male partners of women who use them scream in pain instead of pleasure. In this video, Dr. Oz explains how an IUD might harm a man's penis -- and easy ways to prevent this from happening.
Continue Learning about IUD (Intrauterine Device)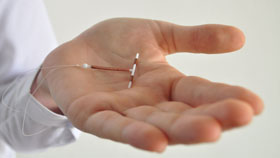 An intrauterine device (IUD) is a T-shaped birth control device made out of plastic or copper and placed inside the uterus by your OBGYN. IUDs work by causing inflammatory responses in the uterus that prevent sperm from moving eas...
ily to unite with an egg. IUDs are very effective (up to 98%) at preventing pregnancy, but will not prevent STDs.
More