"We stress that the reason to reduce the fever is for the comfort of the child and not to reduce the temperature," says Carlos Lerner, MD, pediatrician, Mattel Children's Hospital UCLA. "Thus, if a child seems comfortable, behaves and appears normal, there is no reason to treat the fever with acetaminophen or ibuprofen. Sometimes treating the fever may cause adverse side effects that are worse than leaving the fever alone."
Fever reducers such as acetaminophen and ibuprofen are generally very safe when given correctly, but they can have rare but serious effects. Aspirin should never be given to children.
Fever medications should not be given to infants under 3 months old unless directed by a physician. For older babies and children, if they are uncomfortable, fever can be treated with ibuprofen and/or acetaminophen. A fever will not harm your child and there are actually some studies that suggest it may help to fight infection.
Give your child medicine for a fever if it's severe or the child is lethargic and/or in pain.
Check with your pediatrician before giving your newborn any fever-reducing medication. And again, if your baby is younger than 3 months and has a fever, always call your doctor immediately or go to the emergency department.
Remember that a fever is just a sign that your child's body is fighting an infection. The reason your doctor may recommend medicine to reduce a fever is so that your child may feel more comfortable (and therefore you will as well). When your child feels better, she will drink fluids (Popsicles work too) to help avoid dehydration that can occur with a fever. If she's acting well and drinking fluids, you don't have to give medicine because the fever itself isn't dangerous and will more than likely go away by itself.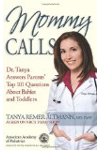 Because fever helps the body fight infection, it is helpful to give medicine only after the fever is above 101 degrees F (38.4 degrees C). Do not give your child aspirin. Studies have linked aspirin with brain, liver, and kidney damage and Reye's syndrome.
The best way to bring down a fever is to give acetaminophen. Common brand names for acetaminophen are Tylenol, Tempra, Liquiprin, and Panadol. These drugs reduce fever and relieve pain. Antibiotics do not reduce fever or relieve pain. Acetaminophen comes in drops, syrup, and chewable tablets. The dose (amount given) is based on your child's weight. Most bottles will have a chart with the correct dose by weight on it. It is important to know that drops are usually stronger than syrup so you do not have to use as much. Be sure to read the directions carefully. Acetaminophen may be given every four hours, but only give the amount that is recommended on the bottle.
If you are unsure about the correct dose of a medicine, call your doctor. Another medicine that will bring down a temperature is ibuprofen. Some brand names of ibuprofen are PediaProfen and Advil. PediaProfen comes in a liquid form. Advil is either a liquid or a pill. Ibuprofen is approved for children six months of age and older, but it should never be given to children who are dehydrated or vomiting (throwing up) continuously. Follow the directions carefully and do not use more than the prescribed dose. Shake the bottle well before giving a dose to your child.
Remember that a low fever (under 101 degrees F) itself is not harmful, but it often makes you feel achy, irritable, and miserable. If your child is uncomfortable, acetaminophen may help.
Continue Learning about Infectious Disease