The way you store fat determines whether you have an apple or pear shaped body. In this video, exercise physiologist and fitness trainer Geralyn Coopersmith explains why body shape matters.
Some scientists put us in various categories, depending on the way we are built. For example, there are those men and women we call "apples," who accumulate fat at the waistline (mostly men); pears (mostly women) are those who carry more weight below the waist and around the thighs and upper legs. If you are an apple body type, you have a higher risk of developing heart disease, diabetes, high blood pressure, stroke, and even some cancers -- and you have an increased risk of suffering with back pain.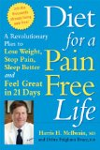 "Apple" and "pear" are terms used to describe body types when more of the fat is stored in the midsection (apple shape) or more of the fat is stored in the hips and thighs (pear shape). Although anyone can fall into either category, it is more likely for men to be "apples" and women to be "pears."

While there are health concerns with being overweight in general, the apple shape leads to higher risk. This is likely due to the fact that there is an excess amount of fat surrounding many of the major organs.
Continue Learning about Human Anatomy