Hydration is meant to prevent or minimize dehydration during exercise. For exercise that lasts less than one hour, water is hydration enough. There is no evidence that you need carb drinks if you are going to exercise less than one hour. When exercising one hour or more, carbohydrate drinks should be taken. This will prevent the muscle fatigue that usually occurs with exercise lasting more than one hour. Carb drinks should have a 4 -- 8 percent concentration since a concentration greater than 10 percent will cause fluid to be drawn into the gut (water always moves to the place where its concentration is lowest), which not only removes the fluid from your body's availability but could cause diarrhea.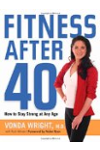 More About this Book
Fitness After 40: How to Stay Strong at Any Age
It's one of the undeniable facts of life. After we reach a certain age, our bodies change. No matter how fit we may have been at 20, we're very different people after 40. But growing older doesn't...
For exercise lasting under an hour 16 ounces of fluids 1-2 hours before exercise. During exercise its recommended to consume 8-12 ounces every 15 minutes. If you are exercising longer than an hour try to consume a beverage with a 6-8% carbohydrate solution to help minimize fatigue. It's important to consume fluids, even if you don't feel thirsty, as thirst is a poor indicator of hydration.

Hydrating your body is always important, but even more so when you are working up a sweat. In this video, Dr. Joy Dubost shares some tips for staying hydrated before, during, and after exercising.

Continue Learning about How to Prepare for Exercise