That depends on how you define "pre-determined".
If the habits of your family (parents, grandparents etc.) are that of eating poorly and not exercising and you follow those same habits, than yes. If the habits of your family were that of eating well, doing physical activities and you follow those same habits, than yes.
If the habits were of poor diet and not enough exercise and you choose a lifestyle of healthy eating and physical activities than you will not follow the same pattern as those before you.
I can use my family on both sides as GREAT examples:
Both of my Grandmothers were over-weight. They ate high fat diets (what they knew because of generations prior), didn't exercise much if at all. ALL of my paternal Aunts are following in that same pattern with their diet and no-exercise and they are overweight. My paternal cousins chose a healthy lifestyle and are not overweight at all. My Mom and my Aunt on the maternal side eat healthy and exercise regularly. I grew up with that in my daily life, so whereas both sides of my family have the "genes" to be overweight, it is with living a healthy lifestyle that we are able to reverse what is programmed. My brother did not follow that lifestyle and he is obese and trying to lose weight now, and he's doing very well.
In addition: We lose anywhere from 2-5% of our muscle mass every ten years or so after the age of 35.. for more about that please read: http://www.sharecare.com/question/muscle-mass-after-35.
Absolutely not. Everything you do affects your metabolism. When you don't get enough oxygen (and remember 90 percent of us don't), your metabolism automatically slows down. Your cells can't burn up the fat as fast as you take it in. Consequently, your metabolism moves into conservation mode.
Scientists have identified two major metabolic pathways - the ergotropic mode (that's the work mode) and the trophotropic (that's the vacation mode).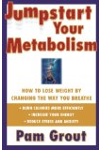 A person's metabolic rate or metabolism is the sum total of all energy needed to perform all necessary processes in the human body on a daily basis. The energy needs are dramatically impacted by the amount of muscle or lean body mass a person carries and this is determined for the most part by fitness and lifestyle. The answer then to your question is no. Metabolism is not predetermined; elements of the total that we call metabolism have genetic components but the sum total of metabolism is impacted far too greatly by the amount of muscle we carry in relationship to the amount of fat we carry and for the most part that is a choice.
Continue Learning about How The Metabolic Process Works