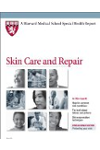 Herpes simplex virus can cause painful blisters on the lips ("fever blisters") and other areas such as the buttocks.

The blisters and surrounding area are painful for two to three weeks, and then usually go away. The virus, however, does not go away. It retreats to nerves and waits to come back again at times of stress, sun exposure, hormonal changes, or illness.

Re-infection often happens in the same body area, but in some cases the infection can spread to other areas such as the eye or, in people with the skin condition called eczema, become widespread.

Herpes can be transmitted to others through contact with infected skin.

If you have painful blisters, see your doctor. Other conditions may cause skin blistering. Your doctor can perform certain tests to help diagnose the problem, including scraping the base of a blister and examining the sample under a microscope.

If the cause is herpes simplex, your doctor can prescribe an anti-viral drug. It can shorten how long the infection lasts. People that have recurrent outbreaks can take a low dose antiviral agent daily. This helps prevent further outbreaks.