Herpes simplex virus can cause painful blisters on the lips ("fever blisters") and other areas such as the buttocks.

The blisters and surrounding area are painful for two to three weeks, and then usually go away. The virus, however, does not go away. It retreats to nerves and waits to come back again at times of stress, sun exposure, hormonal changes, or illness.

Re-infection often happens in the same body area, but in some cases the infection can spread to other areas such as the eye or, in people with the skin condition called eczema, become widespread.

Herpes can be transmitted to others through contact with infected skin.

If you have painful blisters, see your doctor. Other conditions may cause skin blistering. Your doctor can perform certain tests to help diagnose the problem, including scraping the base of a blister and examining the sample under a microscope.

If the cause is herpes simplex, your doctor can prescribe an anti-viral drug. It can shorten how long the infection lasts. People that have recurrent outbreaks can take a low dose antiviral agent daily. This helps prevent further outbreaks.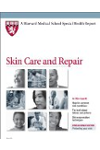 More About this Book
Harvard Medical School Skin Care and Repair
Where can you get authorotative advice on skin care? There's plenty of advice out there on TV, the internet and in the aisles of stores peddling skin care products. Despite the abundance of products...
Continue Learning about Herpes Simplex (HSV)

Herpes simplex is a virus that can cause painful blisters and sores. Both males and females can get it. Herpes can affect the lips, the inside of the mouth and the eyes. The virus can also infect the genital area (genital herpes). ...
Herpes simplex that affects the mouth and eyes is generally called type 1 or HSV-1, while HSV affecting the genitals is type 2 or HSV-2. The two types of herpes are generally the same, although they can be distinguished in a blood test. While a herpes infection may cause only a single outbreak, recurrent outbreaks are not uncommon. Infections can be triggered by stress, fatigue, sunlight or another infection, such as a cold or flu. Treatment can reduce the number and severity of outbreaks, but cannot cure HSV.
More