Plenty of studies say that marriage is good for your heart. The stronger your marriage, the stronger the benefits to your heart become. For instance, married people have lower rates of heart disease than their unmarried peers, a study by the American College of Cardiology (ACC) found. Other research says the stronger your relationship with your spouse or partner, the bigger the boost to your heart health. In older couples, a good marriage quality and a lower risk of heart disease go hand-in-hand.
There might be many reasons why heart disease is less common among married couples. Some are:
They have better access to health insurance and healthcare.
Companionship has a positive impact on a person's health.
It seems married people also do better when recovering from heart surgery. Published research found that unmarried people might be almost twice as likely to die after such a procedure compared to those who are married. It could be due to the fact that spouses offer care and support during the recovery.
This content originally appeared on http://blog.mountainstar.com/
Research shows that marriage is good for your heart, and not just in the Valentine's Day box of chocolates kind of way. One study found that married men experienced healthier blood pressure changes than single men. According to another study, the chance of suffering a heart attack or stroke doubles within the first 30 days after a spouse dies. Some research indicates that this may be caused partially by partners being less likely to take their medications in the month after a spouse's death, but there's also evidence that losing a spouse is associated with harmful changes in blood pressure, heart rate and other physiological functions.

It's not enough to be married, though. One study using computed axial tomography (CT) scan showed that those who felt they had a supportive spouse had less calcium buildup in their arterial walls, meaning they were at lower risk for heart disease. Couples that were ambivalent about how supportive their spouses were exhibited higher calcium levels in their vessels.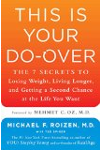 More About this Book
This Is Your Do-Over: The 7 Secrets to Losing Weight, Living Longer, and Getting a Second Chance at the Life You Want
From one of America's most trusted physicians and the bestselling coauthor of the YOU series with Dr. Mehmet Oz—this practical and empowering guide shares the seven secrets to losing weight, restoring peak vitality, and regaining optimal health at any age.No matter whether you're a stressed-out workaholic, a couch potato, or a marshmallow addict, it's never too late to get a second chance. You do not have to let genetics or bad choices of the past dictate your health outcomes. In fact, you have the power to change your body—as well as which of your genes are switched on—no matter how you've lived in the past.In This Is Your Do-Over, Dr.Michael Roizen, four-time New York Times #1 bestselling author and renowned Chief Wellness Officer of the Cleveland Clinic, provides the tools you need to slam the brakes on bad health and press the gas pedal to good health. In the book, he addresses all the areas that contribute to total-body wellness, including nutrition, exercise, sex, stress, sleep, and the brain. Using concrete strategies that anyone of any age can use, Dr. Roizen shows you how to change your heath destiny with his seven simple secrets to earning a Do-Over. He even shares the key step missing in most other programs: how to select and partner with the proper buddy or coach to get you to your goals. Grounded in cutting-edge scientific research and culled from Dr. Roizen's experience coaching thousands, This Is Your Do-Over is the ultimate guide to reversing damage, optimizing health, and living a life filled with energy and happiness. It is not too late; your Do-Over starts now.
Women who are in satisfying marriages have a health advantage over unmarried women or those in unsatisfying marriages, according to a 2003 study published in Health Psychology. The study, which followed 493 women age 42 to 50 over 13 years, found that women in good marriages were less likely to develop risk factors leading to cardiovascular disease compared to other middle-age women.
Continue Learning about Heart Health