Walking is the best exercise. About 30 minutes of walking daily is good. 60 minutes would be even better. It does not have to be fast paced. Consistency is more important than intensity. The HF-ACTION trial showed that there was a significant decrease in mortality with regular supervised exercise.
Talk to your doctor before beginning a walking program (or some other exercise you enjoy). Gradual exercise training often lessens symptoms while increasing your energy and overall quality of life.

Walking on a treadmill, bicycling and swimming allow you to use the large muscle groups. Find an exercise that doesn't make you too tired and requires such effort that you can't talk while doing it. Avoid lifting really heavy objects.
Great ways to exercise if you have heart failure are:
Take a friend with you for company.
During bad weather try walking at a mall.
Try a stationary bike.
Join water aerobics at a health club or your community pool.
In the beginning, you may feel anxious about starting physical activities or you may feel too weak or tired to exercise. However, once you begin regular exercise, you will begin to feel better. By keeping active, you may be able to do more of the things you enjoy.
Continue Learning about Heart Failure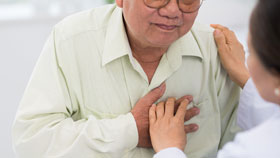 Heart failure occurs when the heart can't pump enough blood to meet the body's needs. It can follow a heart attack or develop gradually over many years. Learn more about heart failure from our experts.