Sodium (or salt) is a mineral that is used by the body in small amounts. Most people get most of their sodium from salt, which is contained in almost every food. When you eat sodium or salt, your body holds on to water, which can make your heart failure worse. Eating low sodium (low salt) food can make you feel better. A low sodium diet means eating between 2,000 and 3,000 milligrams (mg) of sodium per day. Ask your doctor or nurse what is right for you.
Continue Learning about Heart Failure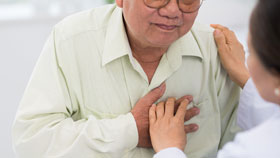 Heart failure occurs when the heart can't pump enough blood to meet the body's needs. It can follow a heart attack or develop gradually over many years. Learn more about heart failure from our experts.