How is deep indentation of my leg associated with heart failure?
When the legs are swollen in heart failure, people can sometimes press into their skin and leave fingermarks. However, this can be seen in other settings as well such as in later stages of pregnancy, in liver disease/cirrhosis and with simple venous insufficiency.
An indentation on your leg may be related to edema, which could be a sign of heart failure. Edema is caused by a buildup of excess fluid in body tissue and results in swelling. In heart failure, the heart isn't able to pump all the blood returning to it from the veins, causing that fluid to "back up" into tissues. Edema is most noticeable in the feet, ankles, legs and abdomen of those with heart failure. Fluid can also build up in the lungs.

If you press on your leg for several seconds and an indentation remains after you let go, that could be a sign of edema.

Let your doctor know if you experience swelling or other symptoms of heart failure caused by this fluid buildup, such as trouble breathing or fatigue.
The deep indentation on your leg that you are describing may be a condition called pitting edema. In addition the smothering feeling and the phlegm may be signs that the furosemide is not enough to help pull the excess fluid out of your body at this time. These can all be signs or symptoms that your heart failure is becoming worse. You need to make an appointment with your physician as soon as possible. It is common in worsening heart failure to almost feel like you are drowning from within. This does not need to be a permanent feeling. You need to see your doctor as quickly as you can. If you are having extreme difficulty breathing and you cannot get to see the doctor right away you need to go to the nearest hospital emergency room so that they can more aggressively treat your symptoms. Once your symptoms are more under control you could ask your physician for a referral to a dietician. Simple dietary changes can help to keep heart failure under better control."
Continue Learning about Heart Failure Symptoms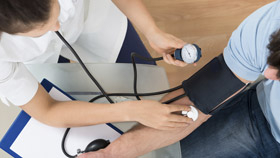 Common symptoms of heart failure include cough, difficulty breathing, bluish discoloration (cyanosis) of the hands, feet and lips and fatigue and swelling in legs and feet. Discuss your concern regarding heart failure with your do...
ctor, especially if you have one or more risk factors such as coronary heart disease, high blood pressure and diabetes.
More