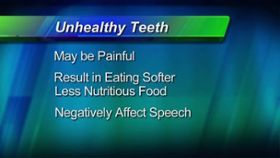 A bright, white smile helps you show the world you are confident and care about your oral health. No one knows more about your oral health than your dentist and dental team. If your goal is to improve your smile by making your teeth whiter and brighter, your dentist can help you pick the best treatment option for you. If you are self conscious because your teeth are crooked or because you are missing your teeth, your dentist can discuss what options are available for that too.

Always remember to brush your teeth twice a day, floss between teeth once a day, and eat a balanced diet and limit between-meal snacks. This will help ensure a beautiful smile for a lifetime!

Watch as Dr. Maria Lopez Howell explains how a healthy smile can make you feel good inside and out.