Decades of research have demonstrated that visualization – or imagery – contributes to behavioral success. Successful resolvers visualize the rewards of success, while unsuccessful resolvers visualize the penalties of failure.
Let's embolden the new you with some training in imagery.
Make your own movie. Create a movie in your mind about an upcoming stressor. Let's say that you're facing a competitive job interview. Replace images of yourself as vulnerable and shaky with images of yourself acing the interview. Then see how much better you are at handling high-risk triggers in the future.
See yourself in a new light. Spend five minutes visualizing yourself showing your strengths. Imagine, for instance, that a light is shining on you, as in a film set. You're confidently speaking in front of a large group or patiently teaching a child to read. That positive frame will spill into your daily life and efforts to change, as long as you don't get grandiose.
Create new scenes. Many people find it useful to collect ideas, phrases, and pictures in imagery notebooks or goal boards. They jot down an inspiring quote or collect pictures that symbolize what they're trying to achieve.
Read a new script. Let someone else give you a few ideas and a positive narrative. You can find plenty of guided imagery exercises online just by Googling "guided imagery audio." Typically combined with relaxation techniques, these exercises introduce you to novel ways of seeing the world and yourself in it.
Start practicing imagery for 10 minutes daily. Find a comfortable, quiet place. Decide whether you are visualizing a particular goal or a general feeling, but be as concrete and specific as possible until you acquire more experience. Close your eyes and breathe deeply. Vividly imagine yourself accomplishing that specific behavior -- eating well, exercising joyfully, building a better relationship, depositing money into the bank, having a productive work day, sending a basketball swishing through the net. See it as already complete, already happening.
Then, intensify the clarity and depth of the picture with vivid details. Capture the colors, the textures, the boundaries in your mind's eye. Listen to accompanying sounds that make the moment realistic. Toward the end, take a few relaxing breathes and add a few empowering self-statements to top off the 10 minutes of imagery.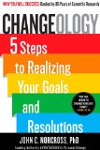 Yes visualization can help you stick to your resolutions. When you envision where you want to go and who you want to be, it is easier to get there. The more concrete your vision is the better. It is like having a map. If you have directions, you won't get lost. If you don't know where the end point is it is harder to get there. Visualization is a tool to help you stick to commitments you make. Close your eyes and envision what you want. It may help to associate the vision with a song. Every time you play the song you will be more likely to conjure up the vision allowing it to be reinforced.
Continue Learning about Healthy Resolutions